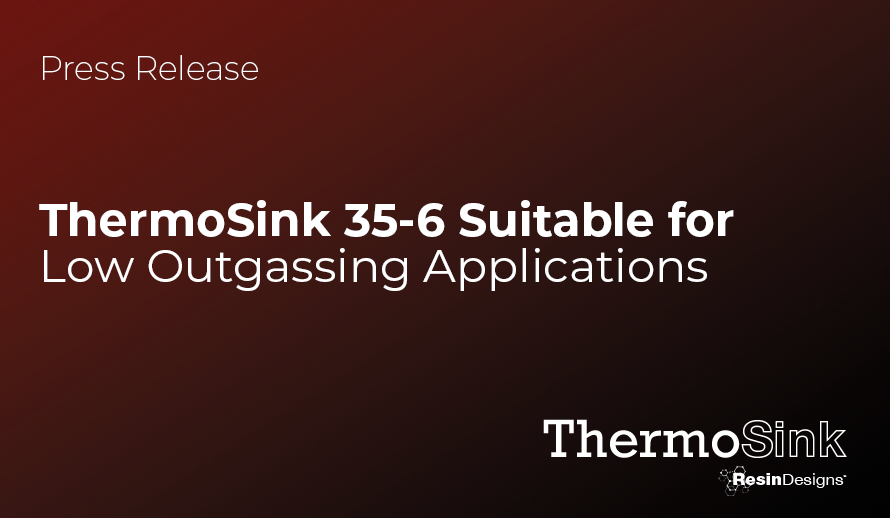 For Immediate Release
Resin Designs, a division of Chase Corporation, announces positive test results for their ThermoSink 35-6 thermally conductive electronics potting material.
Recent independent testing has confirmed that ThermoSink 35-6 has met requirements under the testing protocol-
ASTM E595-15 (2021), "Standard Test Method for Total Mass Loss and Collected Volatile Condensable Materials from Outgassing in a Vacuum Environment"
Results concluded that ThermoSink 35-6 produces a total mass loss of 0.18% under vacuum test conditions, well below the specification of 1% loss. As a result, Thermosink 35-6 is considered acceptable for use in high-demand aerospace applications where low outgassing standards are a requirement.
ThermoSink consists of a number of products of various viscosities, hardness, and thermal characteristics. All products are two components (1:1 ratio mix) heavily filled silicone with high thermal conductivity.
Advantages of ThermoSink Include-
Soft for minimal stress on sensitive components
High thermal conductivity of at least 3.4 W/mK
Excellent flow for filling complex geometries
Long gel time for ease of processing with heat-accelerated cure
Excellent thermal and mechanical shock protection
Applications and Industries of success Include-
Low-outgassing aerospace applications
EV battery and charging electronics
High T environment automotive devices
Protection of high heat generation integrated circuits
Chase Corporation, a global leader in the development and manufacture of specialty polymers, are expert in providing PCB protection in the most demanding applications. Chase Corporation was founded in 1946 and has grown to become an innovative manufacturer of advanced protective materials with a global customer base.
For further information on Chase Thermosink please visit  https://chasecorp.com/resindesigns/https://chasecorp.com/resindesigns/silicones-products/thermosink/.