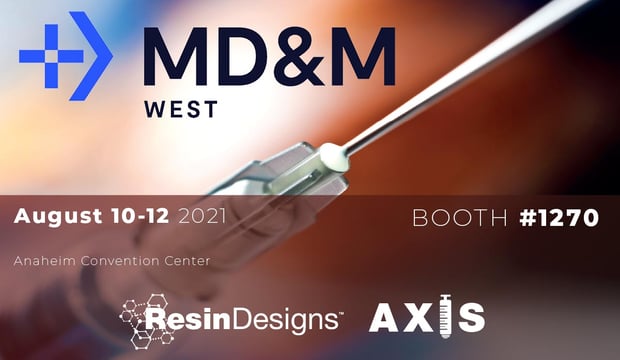 Resin Designs, a division of Chase Corporation, announces it will be exhibiting at MD&M West in Anaheim, California, August 10 – 12, 2021. MD&M West, a show that draws a huge number of medical industry leaders, is billed as "the med-tech community's greatest event." Members of the Resin Designs team, including product development specialists and commercial managers, will be on hand to talk about their unique range of adhesives and coatings.
AXIS medical adhesives -- a range of medical device assembly adhesives all tested to ISO 10993-5 Cytotoxicity standards; with applications including needle bonding, catheter assembly, and general device assemblies; and a selection of chemistries and curing methods such as chemical and UV curing.
HumiSeal electronics protection products -- the industry-leading brand name in electronics and device protection, conformal coatings, and thermal management products, including UV40, recently approved under
ISO 10993-5 Cytotoxicity.
Visitors to the Resin Designs booth #1270 will hear first-hand how collaboration with Resin Designs' polymer scientists can result in cost-effective and reliable solutions to assembly and adhesion challenges for medical devices.
Global business director Jacek Knop expressed his thoughts on this show and the opportunity for face-to-face collaboration:
"Resin Designs has made a name for itself over recent years by providing a collaborative approach to problem-solving in the challenging medical device environment. The branding of the AXIS line of adhesives brings together a range of products that had been successful individually in the past to form a cohesive product line for a full-service approach. With the AXIS product line, I believe Resin Designs has confirmed its commitment to ensuring we continue to supply products of increasing reliability and performance within the medical industry. We are completely focused on continuing to deliver our customers a sustainable, competitive advantage by staying ahead of emerging technologies".
Chase Corporation was founded in 1946 and has grown to become an innovative manufacturer of advanced protective materials with a global customer base. Two operating divisions manage the development, manufacture, and marketing of industry-leading brands that provide highly engineered protective features for use in the demanding applications of energy, electronics, telecommunications, construction, transportation, and utilities.
For further information on AXIS products