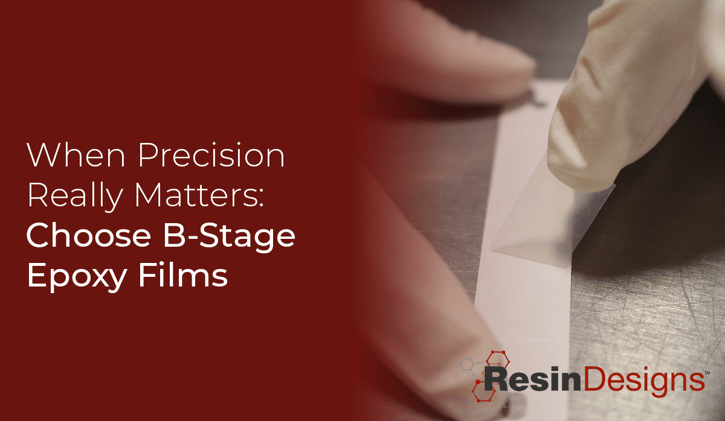 Epoxy chemistry is certainly not new, and this technology has proven itself across a wide range of industries and applications. Epoxies have demonstrated their value due to desirable characteristics, such as:
Chemical and environmental resistance
Adhesion to a wide variety of substrates
Excellent peel and shear strength
Customizable open and curing times
Temperature resistance
There are, however, challenges associated with the use of liquid, two-component epoxies. They can often require expensive and complex application equipment with precise mix ratio control. Liquid epoxies can also require fairly long curing times, making their use in higher volume circumstances less than ideal. Other than that, they can also be just plain messy!
In order to address some of these weaknesses of liquid epoxies, an alternative approach is available in the form of B-stage epoxy films.
What are B-stage Epoxy Films?
B-stage epoxy films are partially cured, film versions of traditional epoxy resins. B-stage films provide the same function as traditional heat-curing epoxies. Films are positioned at the bond interface, and heat is used to complete the polymerization reaction and bond. They are typically supplied in roll form, as a film sheet, or in precut shapes and forms with release liners. 
Advantages of B-stage Over Liquid Epoxies
B-stage epoxies offer a number of potential advantages when compared to traditional liquid epoxies.
Clean: adhesive only where you want it
Precise: not dependent on viscosity or mix ratios
Customizable: capable of high fill levels for thermal and electrical conductivity
Fast: cure with heat in seconds, instead of minutes or hours
Efficient: require minimal equipment for application
Green: no solvents or hazardous liquids involved
Opting for film epoxy (over liquid epoxies) has distinct advantages, such as offering near-perfect control over the thickness and reliability of the adhesive. This allows for consistent and high-performing dielectric and thermal properties. Moreover, film epoxies can be provided pre-filled at heavy levels for improved electrical and thermal conductivity. At the same fill levels, liquid epoxies would suffer viscosity and shelf life issues and are therefore unsustainable.
Related Article: Troubleshooting Epoxy Application Errors
B-stage epoxies are typically supplied in roll or die-cut sheet forms, complete with release liner separation. They are available in a range of thicknesses from 25-125µm and with varying thermal and electrical properties as required.
To name a few:
Roll form or die cut (screen print, die cut, laser cutting)
Activation temperature ranges from 90°C to 150°C
Electrically insulating versions
Electrically conductive versions
Thermally conductive versions
Fiberglass or carbon-filled versions for enhanced mechanical strength
B-Stage Epoxy Applications
The following are some suggestions for situations where the use of B-stage epoxies might be advantageous. In each case, these are applications where strengths such as speed of curing, higher filler levels, and precision are of value.
Gasketing and sealing in medical end electronics devices
Display sealing and binding
Semiconductor packaging for flip chip processes
Wafer passivation and wafer back-side adhesion
Optical applications include sealing of LCD glass and flat panel displays
Window mounting in optical sensors and fiber optic bonding in ferrules
Heat sinks on PCBs 
---
As a supplier of electronics protection polymers and coatings, Chase Corporation and Resin Designs division can help you with a comprehensive and unbiased approach to evaluating your application and process. We'll show you how to maximize efficiency, minimize cost, and improve product reliability. Our outstanding manufacturing and technical support groups can provide your organization with reliable global supply, unmatched quality, and superior technical support.
Please contact us today to discuss your application.