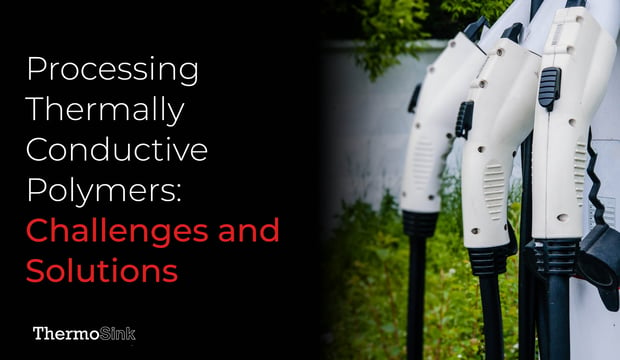 The use of thermally conductive polymers has been accelerating in recent years. This growth is being driven by increased demand and technical advances in applications, such as:
EV battery cooling
High voltage EV and yard tool chargers
Miniaturization of trace spacing and gaps on PCBs
And many more….
Thermally conductive polymers play a critical role in transporting and dissipating heat in electronics. They serve to protect sensitive components (such as integrated circuits) and can substantially improve product durability and field failure rates.
What are Thermally Conductive Polymers?
Thermally conductive polymers are exactly what the name implies: polymers that are designed to be conductive to heat. They are sometimes also called "TIMs" — thermal interface materials.
They are comprised of:
Base polymer/plastics such as polyethylene, epoxy, silicone….
Thermally conductive fillers such as metallic or halogenated compounds among others
The polymers can be designed with a wide range of processing viscosities, curing rates, hardness, and thermal conductivity. (Measured in the units Watts per meter degree Kelvin). They can be designed for complete encapsulation/potting of components or to act as an adhesive interface layer between the heat source and an attached heat sink.
In general, thermally conductive polymers will be filled with an unusually high percentage of filler materials to provide adequate heat dissipation. It is in fact this large filler quantity that can be the source of many of the challenges associated with this family of products.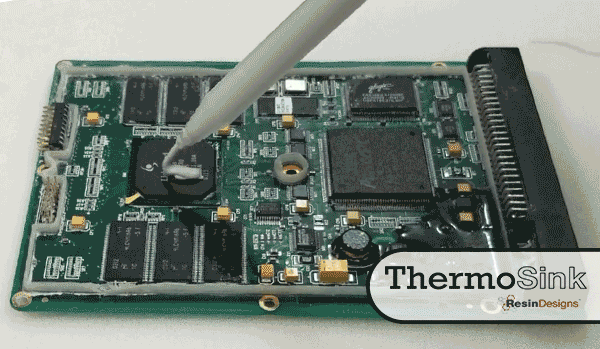 Thermally Conductive Polymer Challenges
Thermally conductive polymers are almost always supplied in liquid form as either one or two component products. In this discussion, we will focus on the more common and complex materials which are the two components.
They are heavy!
Nearly all of the issues of concern in processing these products are related to their very high, and very heavy, filler content. As an example, Chase Thermosink 35-3 has a specific gravity of approximately 3.0. For context, a 5-gallon bucket of water weighs approximately 40 pounds, the same 5-gallon bucket of Thermosink weighs about 120 pounds! It is unreasonable for manufacturing workers to lift such heavy containers, so it is often the case that thermally conductive materials are supplied in only partially filled containers to keep the weight reasonable.
There is a risk of settling.
Again, due to a large amount of solid, granular filler, it is often the case that--similar to paint--there is settling during shipping and storage that may require mixing prior to use. If properly designed, the solids will not aggregate or clump, but it is still always recommended and necessary to agitate/stir heavily filled materials immediately prior to use and whenever allowed to sit idle for long periods of time.
The simplest methods include basic hand stirring (which can be tedious and messy) or more commonly blade mixing as an attachment to a rotating device such as a basic hand drill.
Mix ratio and static mixing must be tightly controlled
As mentioned earlier, many thermally conductive polymers (such as Thermosink) are designed as two-component systems to ensure low viscosity for processing with chemical curing for rigidity and strength. Proper curing requires the mix ratio to be measured and monitored regularly within a tight window.
Regular quality control interventions or automated process monitoring are the two most common approaches and work well. In addition, two-component products are introduced just prior to dispensing using a static mixing device. This is typically a tubular extruder extension filled with interlocking spiral mixing components that force the two materials together. It is important to utilize the specific device recommended for the product that is being extruded with the proper size, shape, and the appropriate number of stages to result in complete mixing.
Inline continuous mixing may be required
In both automated and manual equipment, it is often necessary to continuously mix or agitate both components to avoid settling; this is in addition to pre-mixing. It is vital that the proper blade design be chosen to effectively accomplish this. As noted, these fillers are very heavy and often used in bulk.
A simple propeller-type blade placed in the middle of the tank—for example—will likely not be up to the task of lifting the heavy material accumulating at the bottom. Each product and manufacturer may have its own recommendations and preferred approaches. In general, a multiple blade system with an upward flow bottom blade is often the recommended design of choice.
In conclusion, thermally conductive polymers continue to increase in usage and present somewhat unique processing challenges. These challenges in typical polymer processing are almost always contributed to their very high and very heavy filler content. Proper equipment and handling techniques are essential to getting the most from products of this category.
As a supplier of electronics protection polymers and coatings, Chase Corporation and its employees can help you with an unbiased approach to evaluating your application and process. We'll show you how to maximize efficiency, minimize cost, and improve product reliability. Our outstanding manufacturing and technical support groups can provide your organization with reliable global supply, unmatched quality, and superior technical support.
Please contact us today to discuss your application.