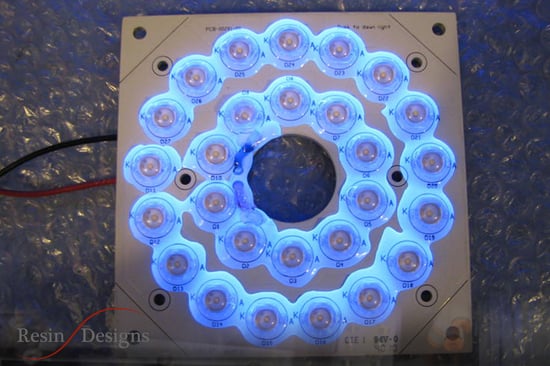 A majority of manufacturers, including Resin Designs, understands that new technology is frequently misunderstood. For example, let's circle back to 15 years ago when suppliers of LEDs believed that this light source could cure UV adhesives more cost efficiently than mercury bulbs, metal-halide bulbs and electrodeless bulbs. Manufacturers also believed the following:
LEDs last extensively longer
LEDs produce significantly less heat
LEDs are usable in more malleable configurations than standard bulbs
The exhaustive list of LED benefits influenced companies to replace their traditional bulbs. However, there were a few issues that arose. Basically, LED light has a much narrower wavelength. Unfortunately, LEDs did not coincide with the adhesive's photoinitiator. Ultimately UV adhesives unsuccessfully cured.
With the advances in science in technology, manufacturers are able to purchase UV adhesives explicitly for LEDs. Now, manufacturers can obtain all of the recognized benefits of LEDs!
Incorporating the right curing system is just as important. Whether it comes down to bonding two portions of the same material, potting an electronic assembly or curing in-place gaskets, it is much easy for manufacturers because they have an array of chambers and conveyor systems to choose from.
What is the Most Common Process to Cure UV Adhesives?
Simply put, spot curing. This specific system features a controller with attaches tubes, referred to as light guides or wands. The light is then turned on after the assembler sets light irradiance and duration on the controller. Either low or high intensity light pass through the tube, which has a lens at the tip with a diameter of 5 to 12 millimeters.
In order to properly cure adhesives manually, the wand tip must be placed in close proximity to the treated area and held there for about two seconds. In regards to automated applications, extended-length wands should be mounted slightly above the conveyor, ensuring accurate placement of the narrow light on the treated area.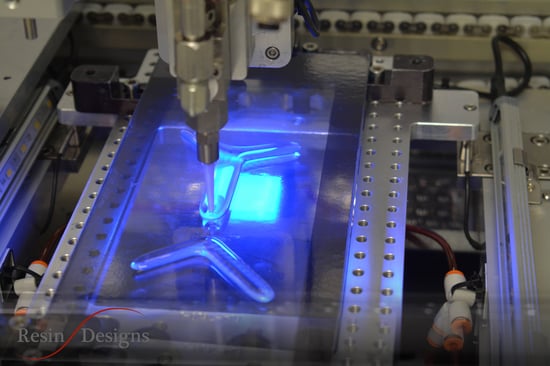 Learn About Flood Curing
This specific process is used when curing large parts or many parts simultaneously. Flood curing is most commonly used to seal or coat PCBs along with pot electronic assemblies but can also be utilized to cure form-in-place gaskets.
Focused-beam flood curing systems are another popular choice as they use reflectors to deliver a high-intensity beam of light which helps to achieve maximum cure depth.
For more information regarding UV adhesive, contact Resin Designs visiting resindesigns.com/contact-us