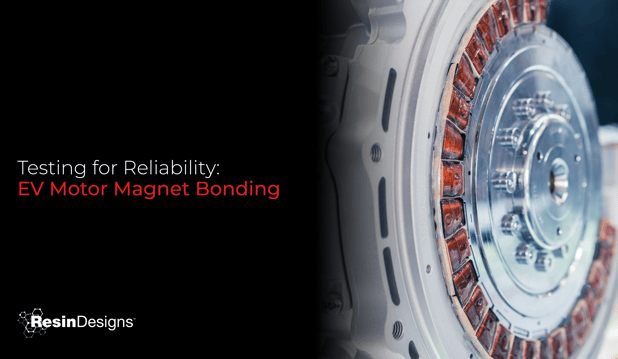 Permanent magnet motors have been around for a very long time. Nevertheless, the technology and chemistry involved in their production have developed tremendously. This is due to a wide range of market factors, including:
Product miniaturization
More complex and power-efficient designs
Consumer demand for longer working life and warranties
Growth and evolution within the electric vehicle (EV) industry
In this article, we will discuss the testing that is relevant to assuring reliability and performance within EV permanent magnet motors. This is a particularly demanding application due in large part to:
Required product lifespans/warranty of 10+ years
Wide operating temperature range of -40 to as much as 200 C (Thermal Management)
Chemical resistance to automotive fluids often required
Highly reliable/zero defect or failure environment for safety
Related Blog: High Performance Sealing with Gel Ropes
Magnet Bonding Adhesive Options
The minimization of mechanical fasteners and protective housings is critical in EV motors due to weight considerations as well as the speed of assembly factors. Polymeric protectants and adhesives are ideal in these circumstances.
A few of the options currently available include:
Cyanoacrylate adhesives

Fast curing, no heat required, can be brittle
Epoxy adhesives (including 1 and 2-part epoxies)

Improved impact resistance, mechanical shock resistance, and excellent chemical resistance
Structural acrylic adhesives

Bonds well to diverse substrates, can struggle with chemical resistance
Related Article:
Strategies for Processing Thermally Conductive Polymers
EV Motor Environmental Conditions/Testing
As is common with many automotive components, there is a need for electronics including EV motors to withstand demanding environmental conditions over extended periods of a decade or more for warranty purposes. Test conditions can include:
Temperature range of -40C to 160C or more
Resistance to transmission fluids
Resistance to lubricating oils
Resistance to water and salt spray exposure
High bond strength to 8000 rpm
High-temperature retention of bonding properties is particularly important in EV magnet bonding. Typical real-world type testing involves many variations on "push test" experimentation where magnets are pushed out of their mounts at various temperatures. This testing is of course conducted to assure permanent magnets remain in their proper positions during extreme operating conditions. The practical measurement is in fact a variation on basic lap shear-type testing.
Resin Designs 2E25, a two-component polyamide-modified epoxy, has recently undergone extensive testing for lap shear resistance at various temperatures. The results are sown in the graph below. While shear resistance drops off as temperatures rise, as expected, the modifications to the epoxy backbone result in an asymptotic drop-off that levels off above numbers expected to result in failures.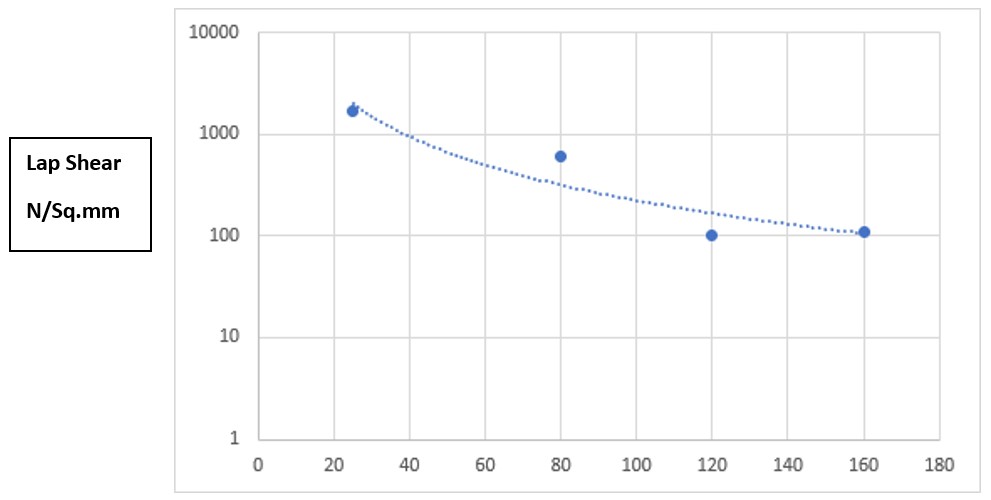 Temperature
2E25 Epoxy Adhesive
2E25 is a high-performance, two-component epoxy designed specifically to withstand the conditions common to EV motor assembly. The material has a relatively long open time with as fast a cure as possible with exposure to elevated temperatures.
As a supplier of electronics protection polymers and coatings, Chase Corporation and our employees can help you with an unbiased approach to evaluating your application and process. We'll show you how to maximize efficiency, minimize cost, and improve product reliability. Our outstanding manufacturing and technical support groups can provide your organization with reliable global supply, unmatched quality, and superior technical support.
Please contact us today to discuss your application by clicking the button below.