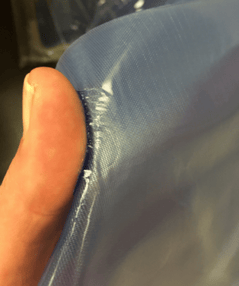 Customers of Resin Designs, a manufacturer of advanced adhesives and sealants, frequently approach the company with the following questions:
Do you have a product that blocks water and other fluids from wicking down wires?

How about something that'll stop liquids from getting into solder joints?

Can you help provide a seal for mated contacts that can be removed and repaired?
These customers typically seek help after having tried a number of fixes: RTVs, rubber pads, epoxies, and glues.
None do the trick, and here are a couple of reasons why:
incompatibility with contacting substrates and

expansion and contraction from thermal cycling (common in electrical devices).
While some sealants block liquids well, they rely on good chemical bonds to prevent leakages. Once flexing and/or thermal exposure weakens a bond, however, leak paths occur over time and without warning, leading to premature failures.
So why not try a product that doesn't rely on a chemical bond and instead uses high surface tack to adhere to nearly every surface? Sounds like an adhesive tape, right? Not exactly, for two reasons:
While adhesive tapes can have very high tack over 100 ounces of inch-width peel strength, they are considered mastics and not chemically crosslinked (AKA cured or vulcanized), and they are not stable over time especially when exposed to heat and fluids.

They leave a messy residue that is difficult to remove and usually requires tools and solvents when it is time to repair the surfaces.
Enough about what doesn't work! Customers want products that will keep wet stuff out of places it has no business being in. Here they are:
Since you had to read the reasons why the old "remedies" didn't work, it's only fair that you learn why Resin Designs' GelTek Silicone Gel Strips, Connector Pads, and Sealing Liquids DO work.
It's because they're
formulated with high purity silicones;

offered in pre-cured sheets, die-cut parts, or two-part liquid form to resolve all types of sealing and corrosion challenges;

designed so that when cured, they exhibit a very high tack surface that displaces moisture and electrolytes on contact;

and fully cured and embedded in foam or fiberglass carriers as they leave the Resin Designs factory, which means their physical properties are stable and will not drip, crack, or flow over time and temperature.
Pictured above is our GT-1700 product sealing aircraft floor tiles and holding back water in a 2 ½-in. diameter column.
The GT-1700 product replaces silicone RTV in commercial aircraft under galley walls and cabin attendant seats. It can be pulled away easily and repositioned due to the cured nature of the material. Furthermore, it requires only 0.5 lb/in2 to form a watertight seal.
Here are a couple of photos of one of Resin Designs' GelTek EMI Shielding Gaskets that combine the corrosion protection of a high-tack silicone with Monel 400 (nickel-copper alloy) knit. The photos were taken before and after one thousand hours of salt fog exposure per ASTM B117 (5% salt solution, 95°F, 95% RH).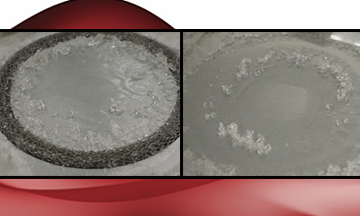 The substrates are aluminum 6061-T6 used as DC resistance testing before and after exposure. In the right photo, notice the black and brown oxidation on the surface outside the contact area of the gel rope gasket. The inside of the ring gasket is pristine with no evidence of corrosion. The gasket maintained low DC resistance with excellent electrical grounding.
Electrical connectors also benefit from this technology
Below are nylon connectors with GelTek GT- 4201 pads inserted. Wires can be inserted and extracted several times without damaging the gel pad, which continues to seal up to 15 lb/in2.

Resin Designs also offers liquid silicone gels that cure rapidly at room temperature and with controlled flow for accurate dispensing/filling. Shown below are before-and-after photos of a wire feed through being sealed with Resin Designs' ultra-soft, high-tack gel. The wires and solder joints are completely surrounded by gel sealant and protected against fluid leakages.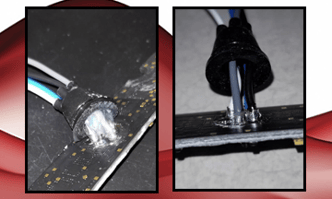 For more information on this product, please contact us.