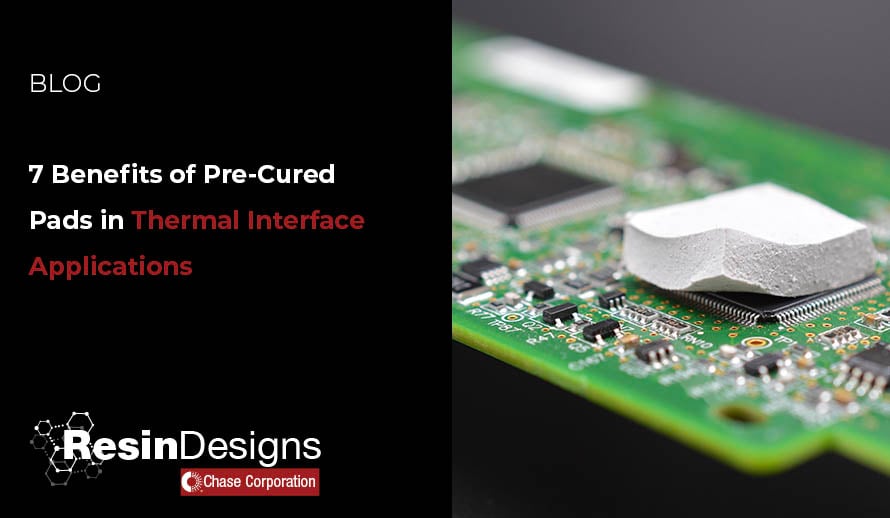 Concerned about the long-term reliability of dispensed, non-curing thermal interface solutions? What about cracking and pump-out that increase thermal resistance after aging and thermal shock? These are just a few of many important reasons to consider using pre-cured pads as a thermal transfer medium between a heat spreader and electrical components over wet-dispensed products that are prone to failure over time as in the example provided below.

Why Soft Gel is Your Best Choice
Resin Designs pre-cured pads are soft gel-like products made for easy compression and air displacement during installation.
These are some of their benefits:
Materials are fully cured and ready for use immediately when they leave the factory
Offer long-term reliability due to their resilient inherent nature
Eliminate the concern of air gap formation during thermal cycling, which leads to spikes in thermal resistance in the field
Come in a wide range of thickness and thermal performance options to suit the application exactly, which can save cost
Available in die-cut shapes that match the component surface or in larger area patterns to cover multiple areas requiring heat transfer
Have a 48-month shelf life, which adds flexibility to stocking either local or overseas manufacturing
Are inherently inert, making them compatible with most other materials, such as RTV staking adhesives used around components for added strain relief
Related Article: How to Select the Right Thermal Interface Material
Packaging of thermal interface products can pose issues in manufacturing. Our thermal pads are supplied on polyester release films for ease of removal and application in assembly workstations. Supported by fiberglass or foam carrier matrices imbedded in the material, Resin Designs pre-cured thermal pads are ideal for handling and installation and can be repositioned or repaired if needed. With a natural surface tack on one or both sides, Resin Designs pre-cured pads stay in place until heat spreader or other assemblies are secured.
Regarding UL certifications, all Resin Designs pre-cured pad offerings are UL 94 listed under QMFZ2.E177248. Electrical engineers and assembly specifiers can compare flammability ratings and requirements with performance and price to select the best product for their application.
Supplied dimensions range from 0.25 – 5.0mm thicknesses and in widths from 12.5 to 500mm. Depending on the thickness and thermal conductivity, roll lengths range from 0.9 to 3.5W/mK, which affects packaging and weight limits. Die-cutting is available with dimensions ranging from 8 x 8mm minimum to 220 x 130mm maximum and can be supplied on a single roll or with multiple rows of parts across the roll as a lower-cost option.
As we've seen, using pre-cured pads is the best option for a thermal transfer medium between heat spreader and electrical components over wet-dispensed products. For more information on this product, please contact us.